FAQ
If you still have a question, we Iikely have an answer
If you have any doubt or outstanding question about how we operate, just let us know and we'll be happy to help !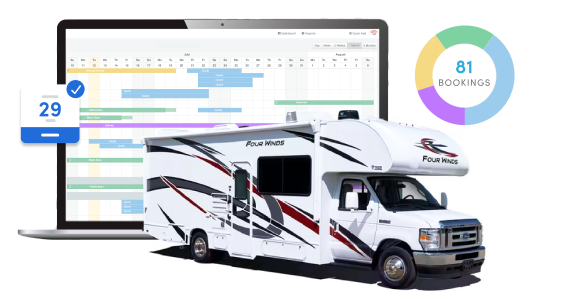 What is Wheelbase?
Wheelbase is the RV industry's most powerful fleet management and rental software that is free-to-use and streamlines the way small, medium, and large RV businesses operate.
Wheelbase provides RV and motorhome rental companies with a cloud-based complete suite of rental management tools to optimally run businesses from the first point of customer contact to key return.
The software provides rental companies with fleet management, payment processing, web hosting, online booking, on-demand insurance for domestic and international renters — all from one simple dashboard.
Wheelbase is a web-based rental software. What does web-based mean?
That means you can access your dashboard from any computer with an internet connection and a web browser. Wheelbase software is available from any device wherever you are. Connect and manage your business with simple, easy-to-use, secure software that's ready when you are.
How much does Wheelbase cost?
Wheelbase is free to use, as simple as that. We only charge you a commission when we send you leads from Outdoorsy or if you use some of our Premium Services. Our vision is to enable our community of users to grow so we can grow with it.
How can I get my team comfortable using Wheelbase?
We're committed to customer training and offer free onboarding and training sessions. We also provide online e-learning available 24/7 for you and your staff as well as a detailed Help Centre with tons of resources for you to keep on exploring advanced Wheelbase features.
Is it complex to install Wheelbase booking engine on my website?
It takes 5 minutes to integrate our online booking engine to most websites. We normally do it for you during your training session to make it even easier, so no worries, we got you.
Can I import reservations, vehicle info, and customer data from my current rental management software?
Absolutely. We can transfer your data in a matter of minutes, including all of your outstanding rentals that have yet to be completed!
Does Wheelbase allow me to manage my customers and fleet in the same software?
Absolutely. Wheelbase serves as a fleet management tool for your vehicles as well as a customer database, allowing you to easily manage and track your business.
Do I have to purchase Wheelbase insurance for every rental?
You're under no obligation to buy Wheelbase insurance. If you choose to take advantage of our episodic insurance, you will be able to pass over the cost directly to your renters. And if your renter gets a binder through their own insurance, you'rer welcome to waive insurance fee.
Does using Wheelbase automatically approve my vehicles for insurance?
You'll sign up your vehicles for insurance as part of your Wheelbase on-boarding process (we'll help you with this). Enter the VIN and replacement value of each rig, and we process the approval. All-in-all, it takes about 30 seconds to get your vehicles approved.
I have my own rental agreement. Can this be attached to each of my reservations?
Absolutely. You have the option to upload reservation documents that will automatically be attached to reservations — perfect for rental agreements!