PRODUCT
All-in-one solution for RV rental business
The only fleet management system designed for RV rental, with on-demand insurance and lead generation from Outdoorsy.
THE LEADING SOLUTION FOR RV RENTAL BUSINESSES
Bring your rental business to the next level
Over a 1,000 rental businesses across the globe trust Wheelbase to manage their operations, boost their online sales, save time and much more...

Free to use
No trick, Wheelbase is free to use. Our mission is to help you to grow your business so we can grow with you and keep on offering you great features.

Online bookings
Wheelbase comes with an off-the-shelf plug-in to convert your website into a 24/7 selling machine. And it can be installed in just a few clicks.

Customizable
Wheelbase is a community solution but we also understand each business is unique. That's why we let you customize your experience whenever possible.

Automations
Wheelbase remove those small yet time consuming tasks from your plate so you can focus on what makes a real difference for your customers and your business.

Dynamic pricing
Take your pricing strategy to the next level by creating dynamic pricing rules to set your seasonal fares, offer discount for long duration bookings and much more.
Payment processing
When using Wheelbase, you simply have to set up the bank account where you want to get paid and we handle everything else. Nice and easy.

On-demand insurance
Wheelbase comes with an off-the-shelf episodic insurance to cover your rental period. We also partner with Roamly to cover your assets during off-rental periods.

Outdoorsy leads
Wheelbase synchronizes your listings, pricing and availability in real time with Outdoorsy so you benefit from external leads without even thinking about it.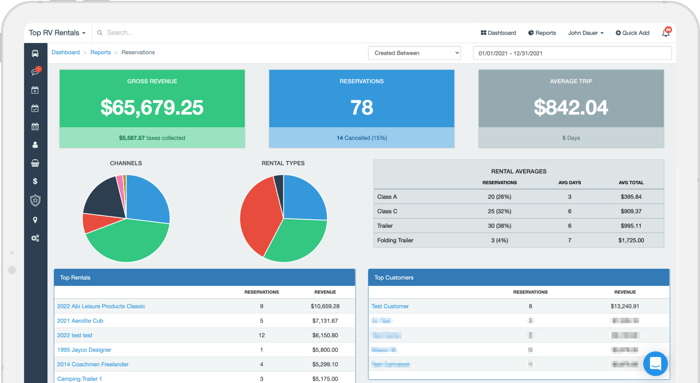 WHY CHOOSE WHEELBASE?
If some of the below resonates, we should talk
Optimize operations

Grow your business

Focus on your customers

We've got your back
100% of our users save time with Wheelbase ⏰
Wheelbase was built and designed hand-in-hand with RV rental businesses. Our ultimate goal is to offer you the best possible solution to optimize your operations without having to juggle between tools and softwares.
Save time with our Smart Calendar, leave our Smart Pricing Engine optimize your revenue, rely on our Custom Notifications to automate and build a consistent customer journey...


Wheelbase users grow their revenue by 50% in the first 2 years 📈
Our philosophy, and also our commitment, is to empower our users to grow their business by setting them up with the software they need.
Using Wheelbase is free of charge which will help your bottom line. But it also comes with the features you need to grow your business : online bookings, add on management, consignment or leads from Outdoorsy are just some examples.

Send a quote in 2 minutes... not 15 📨
Another key pillar of our approach is to enable you to focus on what really makes a difference for your business: your customers.
By automating tedious and low-value tasks, you will provide a consistent journey to your customers. You will also save precious time to reflect on your strategy, the next rigs you will add to your fleet or even learn from the growing Wheelbase community.

We answer your questions in less than 5 minutes 💬
Once you start using Wheelbase you're part of the family. And we don't leave our family alone when facing tough time or having questions. Wheelbase team is always here to support in a variety of ways.
Whether you use our Live Chat, consult our Help Centre, or get in touch with your dedicated Customer Success Manager, we're here to answer your questions.
Ask for your free demo now
What is Wheelbase?
Wheelbase is the RV industry's most powerful fleet management and rental software that is free-to-use and streamlines the way small, medium, and large RV businesses operate. Wheelbase provides RV and motorhome rental companies with a cloud-based complete suite of rental management tools to optimally run businesses from the first point of customer contact to key return. The software provides rental companies with fleet management, payment processing, web hosting, online booking, on-demand insurance for domestic and international renters — all from one simple dashboard.
How much does Wheelbase cost?
Wheelbase is free to use, as simple as that. We only charge you a commission when we send you leads from Outdoorsy or if you use some of our Premium Services. Our vision is to enable our community of users to grow so we can grow with it.
How can I get my team comfortable using Wheelbase?
We're committed to customer training and offer free onboarding and training sessions. We also provide online e-learning available 24/7 for you and your staff as well as a detailed Help Centre with tons of resources for you to keep on exploring advanced Wheelbase features.
Is it complex to install Wheelbase booking engine on my website?
It takes 5 minutes to integrate our online booking engine to most websites. We normally do it for you during your training session to make it even easier, so no worries, we got you.